Welcome to Spencer & Company Awnings
Spencer & Company Awnings is a Nova Scotia based company located in Wellington, Halifax County and has operated since 2002. We specialize in custom retractable patio and window awnings for shade applications on home decks and commercial sites.
Highlights:
Superior Quality & Durability
We sell and install awning products from Rolltec Rolling systems Ltd. Rolltec provides a high quality product manufactured with Canadian made components. The frames are aluminum powder coat finish with stainless steel fittings. They have a 10 year warranty on their products, making it the longest warranty offered by an awning manufacturer.
Countless custom Applications & Installations
We are able to work with your needs and vision for your deck space to supply awning designs with side panels, retractable valances and custom extendible valances for sun protection or privacy.
We can also supply window awnings to shade large windows where there is no need for a true retractable system as used on a patio. These awnings act almost like an outdoor blind and extend out and down to provide up to 160 degrees of coverage.
Roller screens or fabric screens that roll straight down to cover balcony openings for sun or rain protection or to provide privacy can add to a deck of a condo or apartment.
Huge Selection of Fabrics & Colours
Spencer & Co. Awnings offers a large selection of fabric selections, both solids and stripes in an outdoor/marine grade acrylic, from Rolltec's World of Elegance collection and the Sunbrella collection.
Peace of Mind
Rolltec frames have a 10 year warranty. This is the longest warranty offered by an awning manufacturer.
Proudly Canadian
Rolltec uses Canadian materials to manufacture their frames.
Find out what's possible
Let us help you give your home a custom look and make it more functional by adding outside living space. Consultations are free!
Contact us today for an Appointment
Proud supplier of Rolltec Awnings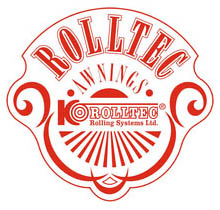 Rolltec Awnings
Rolltec® Awnings is the leading Canadian manufacturer of upscale retractable awnings. Since our startup in 1984, Toronto based Rolltec® has proven to be an industry leader in motorized canvas awnings by providing the highest caliber in both quality of products and customer service.
Canadian Made
Rolltec uses Canadian materials to manufacture their frames.
Award Winner
Rolltec Rolling Systems Ltd. of Concord, ON was recognized with the 2015 Canada Honours Program award for design excellence in specialty fabrics applications.